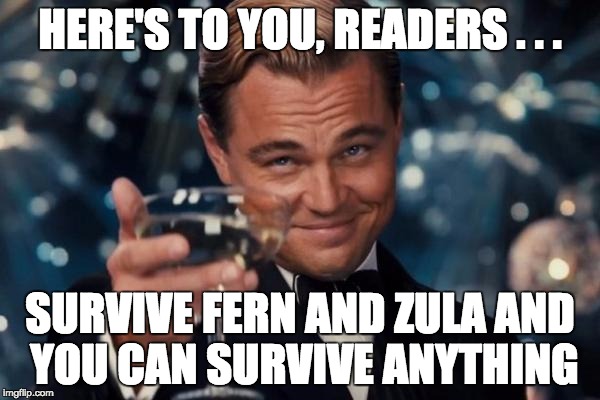 Charles Dickens was a master of quirky characters. Miss Havisham in Great Expectations is the woman who's never taken off her wedding dress . . . in decades. Mr. Smallweed is carried around on a litter and shouts to be continually "shaken up." Even Scrooge has a miserly quirk. Why did Dickens use such oddities?
Because
quirk makes for memorable characters.
Next time you craft a character, make sure to add in a trait that stands out. It will set your story apart from the norm. That's what Kelly Klepfer and I did in our newest release. Meet the quirky cast of
OUT OF THE FRYING PAN
:
Fern Hopkins
A spry, sixty-three-year-old artist with a love of simple beauty, Fern adds elegance to the community by teaching art classes and reining in Zula's creative impulses. As much as she appreciates the creation around her, intimacy with God is a struggle, so she keeps spiritual things confined to Sunday mornings.

Azulabelle "Zula" Hopkins
At sixty-one, Zula is a southern lady with a flair of her own involving big hair and plenty of make-up. Living with Fern is difficult for Zula, but she fears loneliness. Though she's a staunch believer, she often puts too much importance on this side of heaven.

Detective Jared Flynn
New to the homicide division, this lanky six-footer, combined with his marital status—single—excites the ladies of Sunset Paradise to match him up with any available granddaughter. He figures if God wants him married, He'll send the perfect woman. Fern and Zula are pretty sure that's KC, and once KC arrives, Jared thinks so as well.

Katherine Cecile "KC" Hopkins
Spinster at age thirty-something according to her aunts Fern and Zula, KC lives with Mr. Wright, her cat. She's recently broken off an engagement and sworn off men—forever.

Irma Benton
She's only in her late fifties, but with her list of health complaints and sour attitude, she seems at death's door. Irma-sighting reports abound during meal times, turning avoidance into a fine art. The only one who talks to her is Mr. Simmons, but from their red faces and flying spittle, their conversations don't appear to be pleasant.

Philippe AuClaire
Silver-haired and mysterious, he's new to the community. He spends his time writing poetry and claims to dabble in international sales. He speaks fluent French-Canadian, is a gourmet chef and professes that the zinnias are not pink but a variegated shade of raspberry sorbet. Fern's heart doesn't stand a chance.

Robert Fenway
Zula always has palpitations whenever Bob is around, but since his wife's death, she just might need a pacemaker. Fern is suspicious of his amazing rebound from his recent bereavement and his attraction to Zula—or maybe it's to her bank account.
Intrigued? Snatch yourself up a copy at
Amazon
or enter the
Rafflecopter drawing
for a chance at a signed copy . . .
a Rafflecopter giveaway